HEC GB Scholarship 2022
Posted by | Asif Ali on | December 10, 2022
---
---
The principal goal this program has is to give scholarship funds to students in GB to provide the youngsters with the most current education to meet the challenges ahead. The scholarship available to undergraduate students studying for the GilgilBaltistan undergraduate level is offered only to HEC-accredited institutions. Gilgit Baltistan is a critically significant area. It is also the terminus of CPEC road, while the Gwadar is on the opposite side.
HEC Undergraduate scholarship for GB Students 2022
The Undergraduate Scholarship Program Gilgit Baltistan 2022 HEC Apply Online at this page. The program will offer financial aid to students to complete their advanced studies at the best universities and institutions in Pakistan to help develop their region and the nation.
Www.Hec.Gov.Pk GB Scholarship 2022
All students from Gilgit-Baltistan are encouraged applicants to submit applications for the scholarship at any time in an HEC-recognized institution. Higher Education Commission (HEC) is working to improve the accessibility, quality as well as affordability, and equity of tertiary education for the students of GB. This scholarship is available for students in the year 2022-2022, which provides many benefits to students.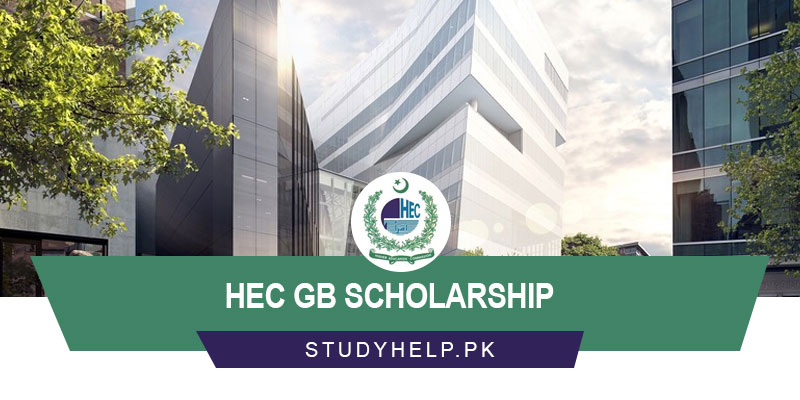 HEC Announces Undergraduate Scholarships 2022
Students who plan to pursue undergraduate study (four/five year BS programs) from accredited public sector institutions recognized by HEC or degree-granting institutions (DAIs) are eligible to apply for scholarships.
More Information HEC
The Higher Education Commission is a statutorily-created body under the Government of Pakistan which was created in 2002 under the Chairpersonship of Atta-urRahman. Its primary responsibilities are financing monitoring, overseeing, regulating, and accrediting all higher education institutions across the country.
HEC Undergraduate Scholarship for GB Students Eligibility Criteria And How To Apply
The applicant must possess a domicile/local certificate from Gilgit-Baltistan.
Applicants are required to submit applications online through: https://eportal.hec.gov.pk
Candidates must be able to complete Secondary School Certificate (SSC) or Higher Secondary School Certificate (HSSC) or equivalent. Priority can be granted to students who have completed or passed either their SSC or HSSC or the equivalent in Gilgit-Baltistan.
HEC retains the option to delay or cancel the process for scholarships at any point without assigning a reason.
The applicants already taking advantage of other scholarships are not eligible for this scholarship.
The application in hard copy is not considered.
The applicants can apply to any public sector university/institution in Pakistan. Any expenditure that is over and above the price listed in the PC-1 form will be borne by the student.
The applicant must deposit the number of Rs. 500/-(non-refundable) as the application fee in Account No.17427900133401, Habib Bank Limited, SRC H-9 Branch, Islamabad, and should upload the scanned copy/image of the bank receipt online while applying.
The maximum age for applicants is 22 years at the time of the last date for submission of applications.
Deadline for receipt of Applications: 25 October 2021 Applicants urged to check their email as well as the HEC website frequently to see any changes and required to submit their applications early enough before the closing date to receive assistance in the event of any issues
Candidates must satisfy HEC as well as university standards for admission into BS programs.
BS Scholarships For Pakistani Students 2022
Forms that are not filled out in hard copy are not accepted. To help the gifted students in these regions that are struggling, HEC announces its undergraduate scholarship.
HEC GB Scholarship Covers

The scholarship covers the following
Check Online
Tuition fee, hostel fee, and other charges -maximum Rs. 240,000 per year
Check Online
A stipend of Rs.15,000 per month
Check Online
Books and traveling allowance of Rs. 30,000 per annum
Check Online
HEC Scholarship For Gilgit Baltistan Students
Candidates required to apply on https://eportal.hec.gov.pk Application processing fee required to submitted to the HEC account. This program is only for students who are from Gilgit-Baltistan and who enrolled in the bachelor's (BS) level of the degree.
Higher Education Commission HEC Scholarships 2022
HEC Commonwealth Scholarships 2022
Higher Education Comission HEC Indigenous Scholarship 2022
HEC Need-Based Scholarship 2022
CONTACT US
​Superintendent (HRD)
Needs-Based Scholarship Programs​
[email protected]
Project Assistant(HRD)​
Needs-Based Scholarship Programs
[email protected]​
Comments
If you have any question, please write below.