Wah Medical College Admission 2023
Posted by | Asif Ali on | January 6, 2023
---
---
Wah Medical College Wah has opened admission for session 2023. It is our intention to inform you that the WMC MBBS Admission for 2023 has open to all candidates who have completed the Intermediate Examination with the FSc Pre-Medical exam and are now seeking admission to MBBS. Applications are being sought from Local students, students from Pakistan from overseas and International students who are interested in pursuing two undergraduate Bachelor's Degree Programs.
Wah Medical College WMC Wah BS Admission 2023
Candidates who are interested are advised of the fact that Wah Medical College, Wah admissions are open. You should submit your application as soon as possible. This college is an element of the Composite Medical Education Programme that is run through the POF Welfare Trust as well as The POF Wah Cantt Board.
Eligibility Criteria
The complete application process for Pakistanis from the Philippines, local and International Students, and Eligibility requirements. WMC is also endorsed by The Pakistan Medical & Dental Council (PM&DC) to provide MBBS training. It is also recognized by World Health Organization (WHO). How to apply Online and Contact details are mentioned in the institute's official advertisement below and can also be found online at the official website wahmedicalcollege.edu.pk. It is one of the most prestigious MBBS colleges not only.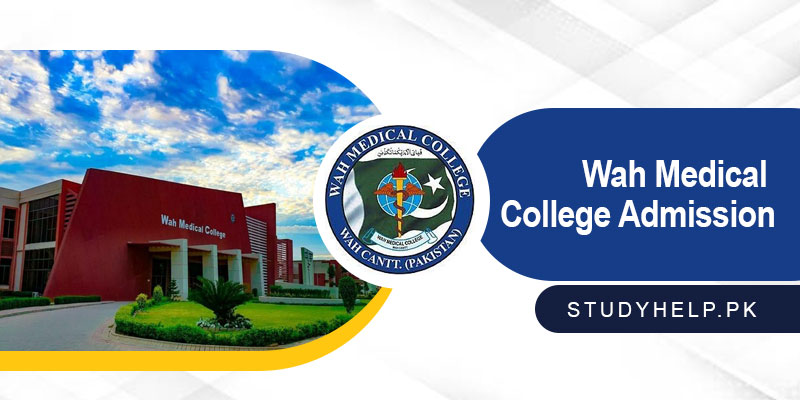 Wah Medical College MBBS Admission 2023, Fee Structure
Wah Medical College is one of the most prestigious medical schools in Pakistan therefore, candidates are invited to enroll in additional studies and receive medical training from Wah College. Wah Cantt, but also Punjab this is why the seats are limited in this college, however, the number of students is much higher than the number of seats that are available, which is why there are only a few seats at the college.
Departments

Anatomy
Anaesthesia
Physiology
Peads
Biochemistry
Dermatology
Pharmacology
Obs & Gynae
Pathology
Radiology
Forensic Medicine
Urology
Community Medicine
Neurosurgery
Behavioral Science
Orthopaedics
Medicine
Medical Education
Surgery
ENT
Opthalmology
Wah Medical College Merit List 2023
Applications as well as the UHS / other provinces (including AJK) /federal government admission test results are accepted until 0-11-2023. F.Sc. (Pre-Medical) with at least 70 percent marks, or a comparable foreign certification. Candidates must.
Contact Details
Manager/Assistant Manager Students Affair Department Wah Medical College
Tel #51-9314388, Ext 107 & 113
Fax # 51-9314373
Email- [email protected]
URL- www.wahmedicalcollege.edu.pk
Comments
If you have any question, please write below.