QAU Admission 2023 Fee Structure Bachelor And Master
Posted by | Asif Ali on | January 4, 2023
---
---
Quaid e Azam University has announced admission in different Master's programs in the Spring semester of 2023. Read details about Quaid I Azam University admission. Quaid-i-Azam University is offering under graduation, graduate, and post-graduation degrees in Management Sciences, Information Technology, Applied Sciences, Social sciences, and many other subjects. admission 2023. Quaid-e-Azam University QAU Islamabad Admission for MS MPhil Masters degree courses 2023 Admission form, the application process, Regular and Online Courses.
Quaid e Azam University QAU Admission 2023
All those candidates who are interested in admission to QAU must download the admission form before the final date. Candidates can moreover apply online for admission in weekend/Evening MPhil programs from here. Keep going by this page to induce the most recent data about Quaid e Azam University QAU Admission 2023 Final date, schedule, fee structure, entry test, result, merit list, and scholarships.
Www.qau.edu.pk Admission 2023
interested to enroll in this educational institute have to appear first in the entrance test. The advertisement is also available on the official website qau.edu.pk.Admissions are also open on a Regular and Self Finance basis in a variety of programs. Applications are welcomed from Pakistani and Foreign Nationals for admission to undergrad and postgraduate Regular and Evening Programs.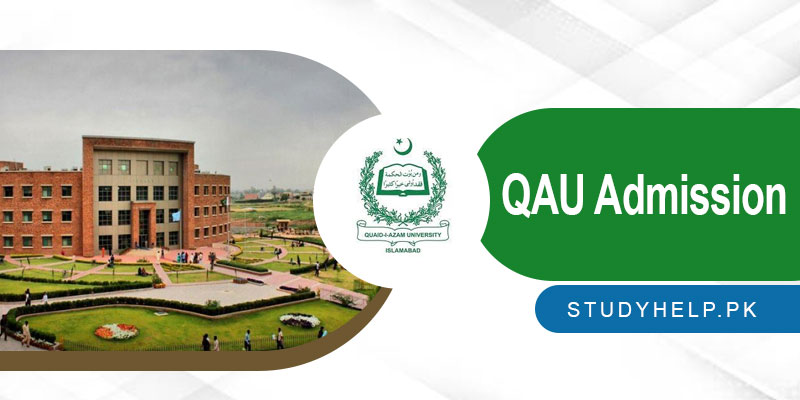 About Quaid-E-Azam University
The renowned institute was first established in an ordinance of the National Assembly ordinance in 1967 and remains in the top spot on the list of the top 10 universities in Pakistan according to HEC, the Higher Education Commission HEC ranking.
Revised Admissions Notice (BS Undergraduate Programme)
QAU Eligibility Criteria 2023
Candidates got to download an online admission form which is accessible on the official portal of the university. Make your account on admission entry to the university and log in to fill up the admission form online. Candidates can also download admission notices from this site. After this, you have got to pay a challan to go before your application.
Quaid e Azam University Undergraduate Admissions

BBS
BBA
LLB
BS Biochemistry
BS Politics and International Relations
BS Bioinformatics
BS Economics
BS Biotechnology
BS Management Sciences
BS Botany
BS Chemistry
BS Zoology
BS Computer Sciences
BA
BS Earth Sciences
BSc
BS Electronics
BCom
BS Mathematics
Pharm D
BS Physics
BS History
BS Statistics
BS Environmental Sciences
BS Information Technology
BS Business Administration
BS Geophysics
Pharmacetuical Science

Quaid e Azam University Postgraduate Admissions

Master Science International Relations
MSc Information Technology
MSc Animal Sciences
MSc Mathematics
MSc Biochemistry
MSc Physics
MSc Microbiology
MSc Statistics
MSc Plant Sciences
MSc Anthropology
MSc Environmental Sciences
MSc Archaeology
MSc Chemistry
MSc Linguistics
MSc Computer Sciences
MSc Defence & Strategic Studies
MSc Earth Sciences
MSc Gender Studies
MSc Electronics
MSc History
MBA
MSc International Relations
MBA Executive
MSc Public Administration
MA Archaeology
MSc Psychology
MS Computer Science
MSc Sociology
MS Electrical Engineering
MSc Political Sciences
MS Engineering Management
MSc Pakistan Studies
MS Software Engineering

Quaid e Azam University MPhil Admissions

MPhil Animal Science
MPhil Physical
MPhil Biochemistry
MPhil Computer Science
MPhil Biotechnology
MPhil Anthropology
MPhil Environmental Science
MPhil Asian Studies
MPhil Microbiology
MPhil Economics
MPhil Plant Science
MPhil International Relation
MPhil Chemistry
MPhil Pakistan Studies
MPhil Mathematics
MPhil Psychology
MS Management
MPhil History
MS Project Management

Quaid e Azam University Ph.D. Admissions

Ph.D. Animal Science
Ph.D. Economics
Ph.D. Biochemistry
Ph.D. International Relation
Ph.D. Biotechnology
Ph.D. Pakistan Studies
Ph.D. Environmental Science
Ph.D. Psychology
Ph.D. Microbiology
Ph.D. History
Ph.D. Plant Science
Ph.D. Management
Ph.D. Chemistry
Ph.D. Physics
Ph.D. Mathematics
Ph.D. Electronics
Ph.D. Physical
Ph.D. Statistics
Ph.D. Computer Science
Ph.D. Pharmacy
Ph.D. Anthropology
Ph.D. American Studies
Ph.D. Asian Studies
Ph.D. Anthropology
Ph.D. Computer Engineering
Ph.D. Defense & Strategic Studies
Ph.D. Engineering Management

Quaid e Azam University Certificate Admissions

Postgraduate Diploma in International Relations
Certificate in Computer Science
Postgraduate Advanced Diploma in International Relation
Certificate in Data Communication & Networks
Certificate in Application Packages
Certificate in E-Commerce
Certificate in Business Information Technology
Certificate in Information Technology
Certificate in C++
Certificate in International Relations
Certificate in Computer Application
Diploma in Information Technology
Certificate in Software Project Management
Certificate in Oracle(v8i) & Developer 2000
Certificate in Visual Programming
Quaid e Azam University Merit List 2023
Candidates must have 45% marks in intermediate (FA FSc or equivalent) to apply for undergrad admissions. The GAT test is vital to apply for MS/MPhil admissions. For further information on eligibility criteria and age criteria for admission in 2023 , visit the official location of the university.
QAU Contact Numbers
Address: Quaid-i-Azam University Islamabad, 45320, Pakistan
Ph. +92-51 9064 0000
Email: [email protected]
Website: www.qau.edu.pk
Comments
If you have any question, please write below.