PSF Scholarship 2022
Posted by | Asif Ali on | December 9, 2022
---
---
(PSF) Pakistan Science Foundation Scholarship Today is Announced. The Pakistan Science Foundation announced a new scholarship. Here are the details regarding the (PSF) Pakistan Science Foundation Scholarship 2023 for Matric Students. Visit this page to find Pakistan Science Foundation PSF Scholarship for Matric 2023 Application Form Science Talent Farming Scheme. Pakistan is the country in which the majority of students quit their studies due to the inability to pay the heavy-duty costs. It is inviting applications from students in the 6th Batch under the Science Talent Farming Scheme (STFS).
PSF Scholarship 2022 Last Date
Dear Students PSF Scholarship Last Date to Apply is December 23, 2022. In this respect, various organizations are working to assist these students to attain their academic goals. Numerous businesses support worthy students. As per this plan, there will be 500 students chosen for scholarships. One of the organizations that have gained the attention of students is the Pakistan Science Foundation.
Pakistan Science Foundation Scholarship 2022 For FSC Students
The complete eligibility criteria to be eligible for PSF Awards to Matric students 2023Every year, matric students receive this award and can continue their studies. Before we get to know about the scholarship program, let's know more about the purpose of the organization. The following information is provided to show which Matric students can apply for the STSF Program 2023.
Www.Psf.Gov.Pk Scholarship Form 2022
Pakistan sciences Foundation (PSF) is Pakistan's body that works to support and encourage individuals involved in research and technology. This is an excellent possibility for students who wish to continue their studies within Science Subjects. Furthermore, the institution works with those students looking to finish their research.
How to Apply for PSF Scholarship for Matric 2023?
Online applications should be made on the official website that is operated by the National Testing Service (NTS) for example www.nts.org.pk. Test Fee Rs. 500/- paid by 1Link 1Bill participating Banks/ATM/Internet/JazzCash/TCS Express Counters, by the downloading fee, Challan/Deposit Slip. After filling out the online application, make a copy of it and send it with the required documents, such as.
Advertisement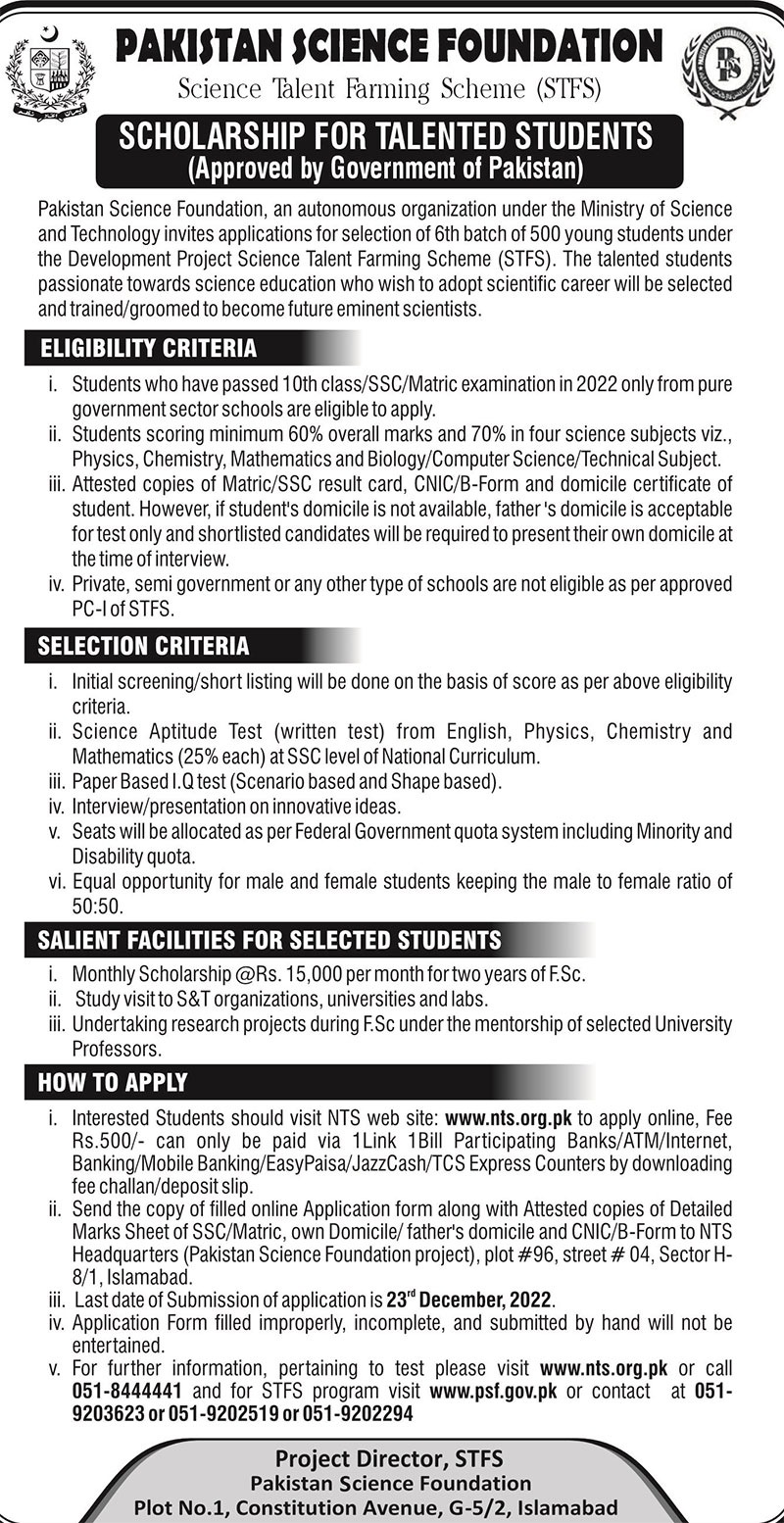 Scholarship Criteria
The shortlisting of students will made according to Marks according to the eligibility requirements.
Candidates must appear for Science Aptitude Test (Written Test) during which an I.Q. Tests will be conducted.
Candidates have to appear for an Interview/presentation on innovative ideas.
PSF Scholarship 2023 For Matric Students
The students who selected will receive an impressive amount of monthly scholarships. At present, PSF has two subsidiary organizations. Now we will discuss them in the next article, we'll look at the complete guidelines and criteria of the PSF Award for the Matric of 2023. One of them is that of the Pakistan Museum of Natural history and the other is the Pakistan information and technology center (PASTIC).
Address Testing Service:
NTS Headquarters (Pakistan Science Foundation Project), Plot No. 96, Street No. 04, Sector H-8/1, Islamabad.
PSF Office Address
1-CONSTITUTION AVENUE, G-5/2,
ISLAMABAD
051-9204522 (Ext 102)
051-9202468
[email protected]
Comments
If you have any question, please write below.