Military College Jhelum Admission 2022
Posted by | Asif Ali on | July 26, 2022
---
---
Military College Jhelum Sarai Alamgir Starts Taking Online Applications For 8th Class Session 2022-2023. Online applications are accepted for admission to the Military College Jhelum during the 1. (Pre Engineering, Medical, and ICS). The deadline for the applications is May 25, 2022. The fee is an ordinary fee as well as 04 June 2022 for an additional cost. The test for written tests will take place on the 13th of June, 2022. The age of the candidate must be between 15-17 years as of 01-07-2022. In certain circumstances, 90 days of relaxation on both the upper and lower limit of age is possible. Military College Jhelum has invited applications for admission to the first class (Pre Engineering & ICS) during sessions 2022-23.
Military College Jhelum Admission 2022 Form Entry Test Result
The Online Registration Starts From Today, The Last Date Of Submission Of Online Registration Forms With Single Fee, After The Online Applications Will Be Paid With Double Fee Till Last Date. Prospectus and admission forms are available at The Military College Jhelum. The Online Registration Has Been Started At Official Website Www.
Www.militarycollege.edu.pk Admission 2022
The cost of the prospectus for officers of the army (retired or in active service) and civilians is 1500 Rupees. Militarycollege.Edu.Pk Till Last Date. Admissions will be made on the basis of merit. JCOs in the Army as well as soldiers (retired or in active service) can obtain a prospectus for only 1250 rupees. After Submission Of the Online Registration Forms, The Candidates Need To Submit the Fee Challan Form To Habib Bank Limited Admission Form And Fee Registration Form To Any Habib Bank Limited.
Military College Jhelum Online Registration
If anyone wants to receive a prospectus via mail, he has sent a bank draft of that amount to the address of the Commandant Military College Jhelum. Payable to Habib Bank Limited Sarai Alamgir (Code-0658).
Military College Jhelum Admission 2022 Advertisement
Five Years Training Program And After Pass Of Matriculation That Few Students Will Be Sent To Pakistan Air Force, Pakistan Army, Pakistan Navy Cadet Colleges For Two Years Military Training. You may also download the admission form from the official website of Military College Jhelum i.e www.militarycollege.edu.pk.
Military College Jhelum Admission 8th Class 2022
The Written Test Will Be Held On Dated 30 October 2022 Sunday, Of Subjects Urdu, English, Mathematics, General Science, And Islamiat (For Non-Muslims Can Give Entry Test Of Pakistan Studies Instead Of Islamiat). If using a download form, applicants are required to pay for the money in the form of a bank draft. The amount is as stated on the official website.
Military College Jhelum Test Date
The Written Test Will Be Taken From Punjab Textbook Boards Class 5th, 6th, And 7th. Military College Jhelum was established in 1922. After the Successful Entry Test Exams, The Candidates Will Be Called For Intelligence Test And Interviews.
Military College Jhelum Fee Structure 2022
Military College Jhelum Past Papers
MCJ Result 2022 Merit List
Military College Jhelum Prospectus 2022
Its purpose-built structure is spread across one hundred acres. After All Tests And interviews,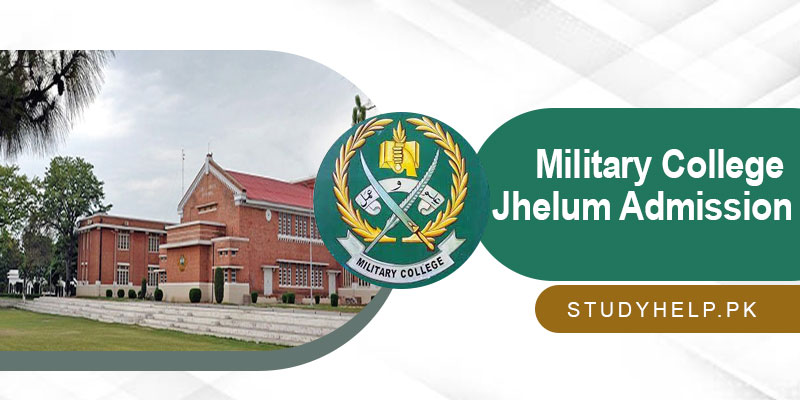 The Selection Will Be Held On Merit Basis. It is situated on the GT road,
MCJ Syllabus for Class V, VI, and VII
which is near the historic city of Sarai Alamgir. The Interested And Eligible Candidates May Submit Application Forms Or Can Take Any Type Of Information Related To Admission Tests And Interviews From These Numbers.
Subjects
Marks

Objectives/ MCQs

English
50
Math
50
General Science
50
Urdu
35
Islamiat
15
Pakistan Studies (For Non-Muslims only)
15
Total Marks
200

Subjective

Urdu
50
English
50
Total:
100          `
Total Marks
300
Selection Criteria For 1st Year Admission
It is possible to call it one of the top nursery facilities in the history of the Pak Army as a large number of former Alamgirians have served in the Pak Army as officers. 0544-650581 And 0544-650582 And Army Numbers: 804-33511-33512-33513 Extension Number. 2255 And 2209. It is important to be admitted into this prestigious college.
MCJ Admission 2022 1st Year
Military College Will Be Accept Un-Complete Applications Or The Candidates Will Not Submit Fees Will Be Rejected. Candidates must pass the Matriculation test. Candidates awaiting results can apply for admissions in the first year.
Military College Jhelum Contact Number
Civil Numbers:    0544-650581, 0544-650582 (Extension 2248, 2255 & 2209)
Army Numbers:   8041-33511,33512,33513 (Extension 2248, 2255 & 2209)
Comments
If you have any question, please write below.