LCWU Undergraduate Admission 2023
Posted by | Asif Ali on | January 4, 2023
---
---
Lahore College for Women University Lahore admits students in BS BE, BBA, BS, B.com, B.Ed., B.Arch., MA MSC MS, MFA, Pharm-D, and Ph.D. Lahore College for Women University is offering intermediate admissions programs. Admission forms will be available starting 20-10-2023, and the closing date to complete the admission applications is 12-10-2023. Students who have completed their intermediate examinations can apply for admission to LCWU's undergraduate admission in 2023.
LCWU Undergraduate Admission 2023 Lahore College For Women University
Lahore College for Women University. All applicants must purchase the prospectus for the university and complete the admission application form. The college also provides undergraduate and postgraduate courses to students.
Www.Lcwu.Edu.Pk UG Admission 2023
Complete the admissions application form (with attached all attested academic papers) to the admissions office. Admission to the academic Session 2023 is available to all programs, which include Ph.D. programs in Natural Sciences, Humanities & Social sciences, Design and Visual Arts the field of education Engineering & Technology, languages, and cultures. LCWU is inviting applications to these fields. LCWU, Lahore during office hours.
Eligibility Criteria
You must include the admission code for online applications on the hard copy of the admission application form. All students who wish to be admitted are able to apply to be admitted by buying the prospectus. Complete an online application (enter the form number on the application form) to be admitted in the chosen subject: www.lcwu.edu.pk.It is a specified college for girls only and admits female students.
Fee Structure
The deadline for submission is 28 January 2023 until 04 February 2023. The deadline to submit an application for admission was also announced. Applicants must adhere to both procedures or else their application could be rejected. The LCWU merit list for last year is available on this site.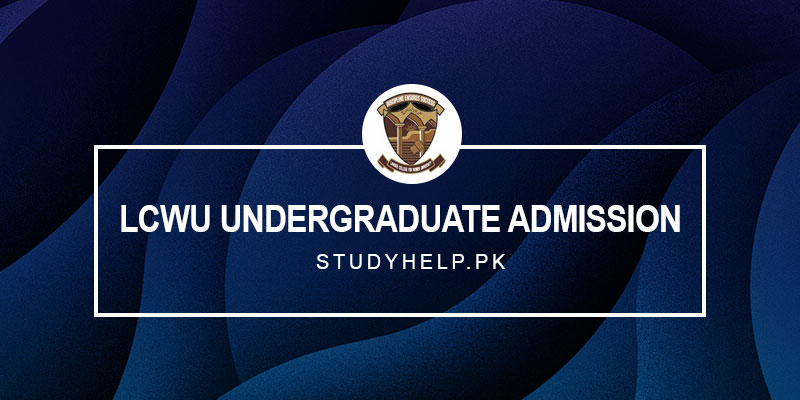 LCWU Admission 2023 Merit List
It's a fantastic opportunity for girls from Punjab to get admission to one of the top women's universities in Lahore starting from the Graduate and Ph.D. level session 2023. Before we go into more details, we will give a brief introduction.
| | |
| --- | --- |
| B.ARCH Architecture | B.COM Commerce |
| B.ED Education [Elementary] | B.ED (HONS) Education [Secondary] |
| BA [HONS] Political Science | BBA Applied Psychology |
| BBA Business Administration | BCS Computer Science |
| BE Electrical | BS International Relations |
| BS Chemistry | BS Arabic |
| BS Software Engineering | BS Persian |
| BS Home Economics | BS Public Administration |
| BS Botany | BS Statistics |
| BS Sociology | BS Zoology |
| BS Islamic Studies | BS Gender & Development |
| BS Environmental Sciences | BS Graphic Designing |
| BS Social Work | BS Physics |
| BS History | BS Economics |
| BS Urdu | BS Interior Design |
| BS Biotechnology | BS Mass Communication |
| BS Education [Science] | BS Mathematics |
| BS English Literature | BS Punjabi |
| BS Pakistan Studies | BS City & Regional Planning |
| BS Geography | BS Visual Arts |
| BS Education [Health & Physical] | BS Textile Design |
| DPT Physical Therapy | PHARM.D Pharmacy |
LCWU Apply Online
LCWU is a top institution to provide women's education in Lahore with over 90 years of excellent service to its name. is dedicated to providing the most affordable and affordable higher education, without compromising on quality. Students who wish to apply to the university can apply to be admitted by buying prospectuses.
Address:
G8VG+FR6, Jail Rd, near Wapda Flats،, Jubilee Town, Lahore, Punjab 54000
Phone: (042) 99203801
Comments
If you have any question, please write below.