ICAP Scholarship 2023
Posted by | Asif Ali on | December 22, 2022
---
---
The Government of Pakistan adopted the Auditors' Certificate Rules, of 1932, as well as the Companies Act of 1913 for accounting professions to be regulated across the entire country. In addition, the Institute of Chartered Accountants of Pakistan (ICAP) has introduced a scholarship program for outstanding students who cannot choose CA because of financial issues. Anyone interested can apply online by the deadline. Our viewers are currently looking on the following page ICAP Scholarships 2023 available for CA on a Need-Based. Scholarship At ICAP, ICAP, a variety of scholarship and financial aid programs are offered since we believe in expanding the opportunities for those interested in CA professionals. CA profession.
ICAP Scholarships 2023 for CA on Need-Based Apply Online
Our core values guide the mission of our Institute define the culture and represent our values, which form the basis of the Institute's identity, core beliefs, and principles. It is a fully-funded need-based and talent-based scholarship program. In addition, the Institute of Charted Accountancy of Pakistan ICAP has launched a scholarship program for applicants who are enthusiastic and bright.
ICAP Scholarship 2023 Application Form
A career in Chartered Accountancy is an exciting profession that can change your life. In this regard, the ICAP council started Edhi CA Talent Program in 2013 with the intention to offer opportunities to high-performing individuals across Pakistan. Candidates must have passed the I.C.S/I.Com/FA/F.Sc/HSC exam in the current year.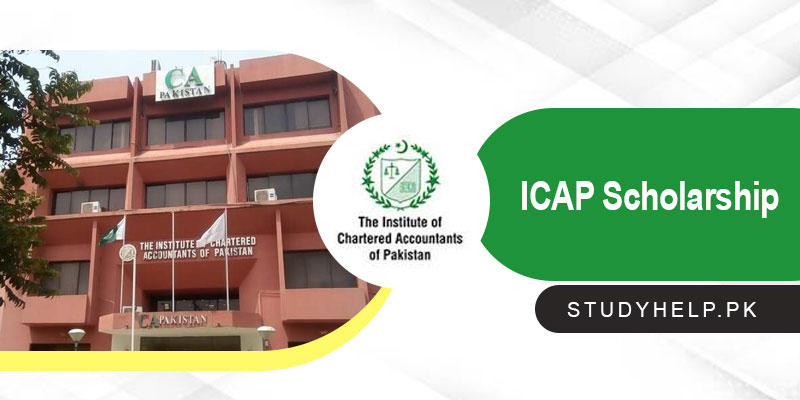 ICAP Scholarship Eligibility Criteria
Before they can take the professional exam, candidates must are required to pass or get permission to skip the admission exam; Assessment of Fundamental Competencies (AFC). Candidates must be in this session only. ICAP invites and supports students who are talented in those 6 (6) disciplines that comprise Pre-Medical, Engineering, General Science humanities ICS as well as ICOM, who meet the criteria below to apply with confidence.
The applicant should be in the top 20 holders of positions in each discipline on their respective intermediate boards.
Students of the session in question only.
Permanent resident of Pakistan/Azad Kashmir as well as Gilgit Baltistan.
Inspiring to join the profession of Chartered Accountancy (CA).
How to Apply
There is however no restriction for graduates to select this option. Students who meet the criteria above and who have been issued ICAP Congratulation Letters ICAP Congratulation Letter can apply for this award.
Institute of Chartered Accountant of Pakistan Contact Number
ICAP Postal Address
ICAP House, 155-156, West Wood Colony, Thokar Niaz Baig, Raiwinf Road, Lahore.
Email-

[email protected]
UAN- 111-000-422
Comments
If you have any question, please write below.