FFC Scholarship 2022-23
Posted by | Asif Ali on | December 19, 2022
---
---
Its Aim Of Fuji Fertilizer Company Limited FFC is to be an inspiring, distinguished, and global-minded business with the hallmark of quality, trust, and innovation. Fuji Fertilizer Company limited Sona welfare foundation has announced a scholarship scheme for the wards of the session of farmers 2022-2023. How do you Apply to the Fuji Fertilizer Company limited Sona welfare foundation Scholarship Online Contact details are provided in the official announcement below. The advertisement can be found online at the official site www.ffc.com.pk.
Fauji Fertilizer Company Sona Welfare Scholarship 2022-23
FFC Scholarship 2022 crucial date to apply online application form, deadline for interviews, schedule of interviews along with merit listing 2022, check online here. FFC scholarship 2022-23, scholarships amount, form for scholarship 2022 pdf, the scholarship for 2022's last date Fuji Fertilizer Company limited scholarships for students in the undergraduate level, FFC scholarship contact number. The Scholarship scheme for Ward of Farmers 2022, SWF the official NPO of FFC is delighted to announce the Merit-Based Scholarship Scheme for gifted and worthy students.
FFC Scholarship Application Form 2023
The candidates who are interested should fill out online application forms on the following page. Sona Welfare Foundation, the official NPO of FFC the largest fertilizer producer is delighted to announce a merit-based award for students who are talented and deserving. Applications from all over Pakistan are accepted under those categories. Candidates from all across Pakistan are eligible to apply for the Fauji Fertilizer Scholarships 2022-23 online registration Application Form.
Fuji Fertilizer Company Limited Scholarship Criteria
Fuji Fertilizer Company Limited Scholarship for 2022 is a merit-based award that is available for students who have Post-diploma (Fsc/ICS) or bachelor's degrees in specific areas. Students of all genders who scored 85% or more in their last competitive examinations (75 percent or more to be eligible for Baluchistan, G.B domicile holders and ex FATA). 1st/2nd semester of Bachelor and the first year of Post Matric. Inscribing in government-approved/registered universities and colleges. Landholding less than 50 acres and affidavit of farming as primary means.
Claim Form For Already Selected Students
How To Apply
Application forms are available from FFC District Sales Offices throughout Pakistan and you can also download the form from our websites www.ffc.com.pk & sonafoundation.org.pk. Complete the form and submit it along with any supporting documents that must be sent by post to SWF Scholarship Desk, Sona Towers The Mall, 156-The Mall, Rawalpindi.
Scholarship Advertisement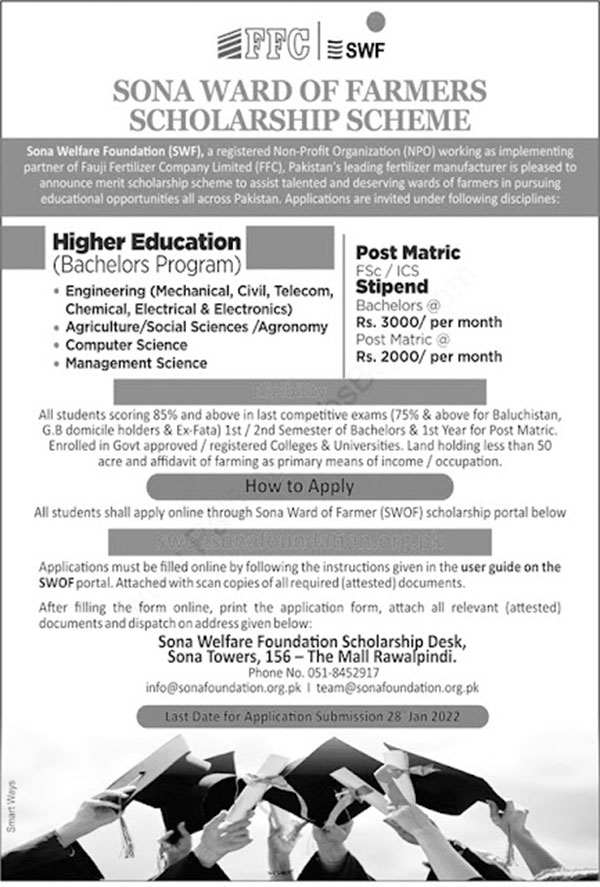 FFC Contact Information
HEAD OFFICE (Registered)
156-The Mall, Rawalpindi, Punjab, Pakistan.
UAN : +92 (51) 111-332-111 PABX : +92 (51) 8450001 FAX : +92 (51) 8459925
Email : [email protected]
Comments
If you have any question, please write below.